Text Message Appointment Reminders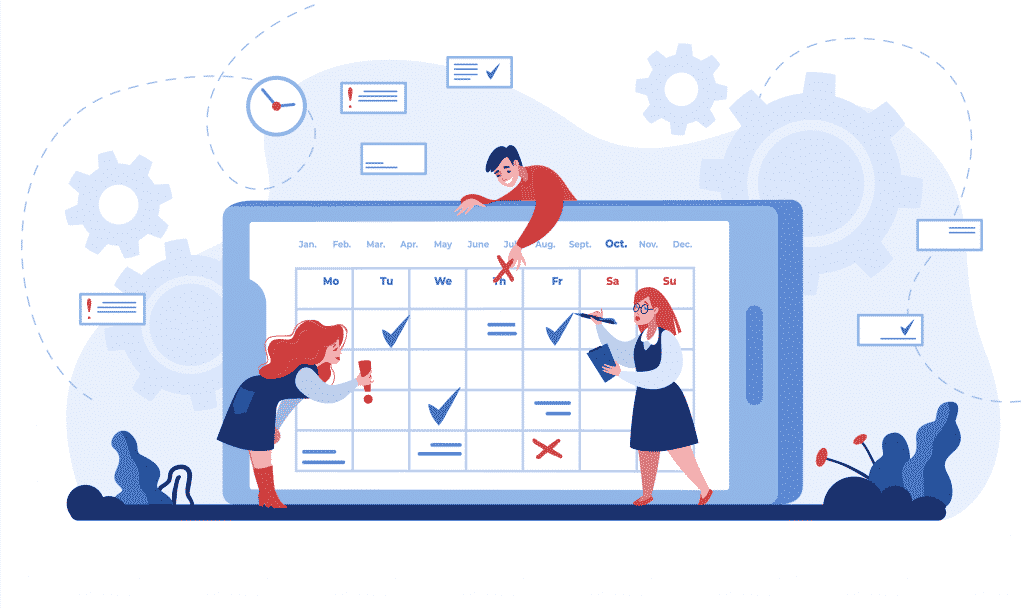 TextP2P makes appointment reminders quick and easy! Did you know that 75% of people say they appreciate text appointment reminders?
You can set up text appointment reminders from days to even years in advance from when you need them to be sent. TextP2P allows you completely automate text reminders so you can set them and forget them. Using automated SMS reminders is the best way to keep your business running without creating any extra work for you are your employees. 
Appointment Reminder Features
Save time and help eliminate last minute cancelations by easily scheduling text message appointment reminders. Setup text keywords to allow your clients to quickly confirm or reschedule appointments in advance, while having it be completely automated.
With text message appointment reminders you get nearly a 100% open rate within 3 minutes!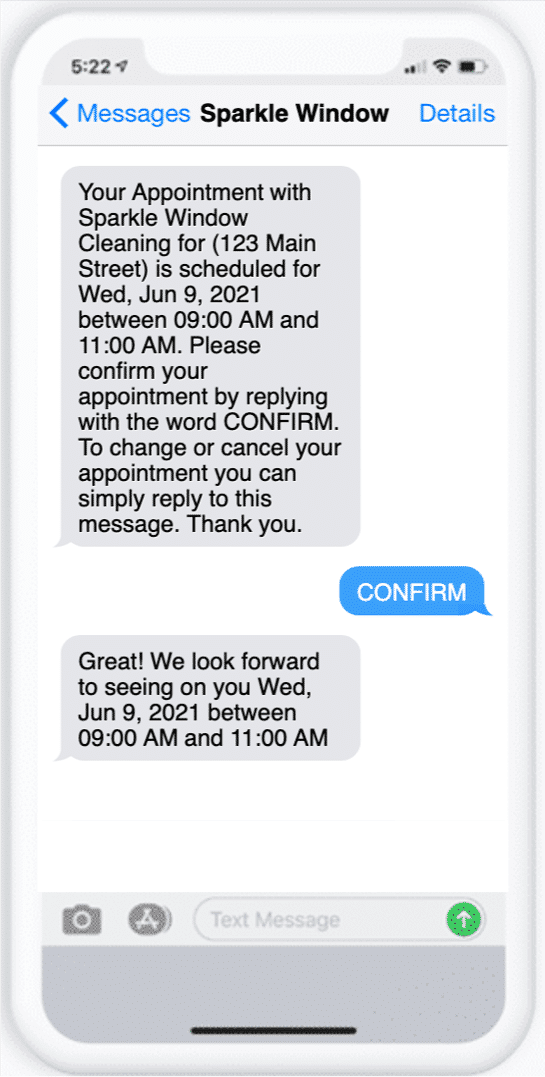 Visual Calendar Scheduling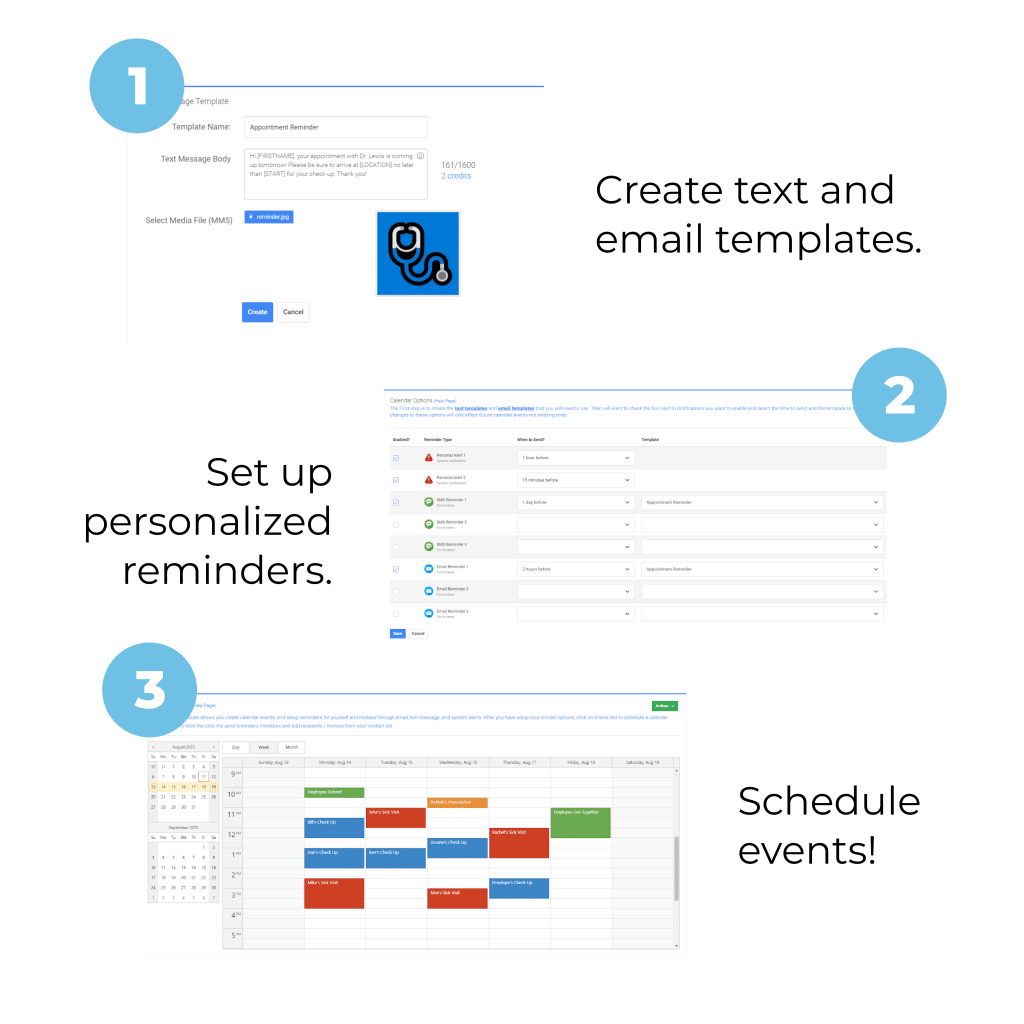 Using our built-in visual calendar, you can schedule reminders for appointments, meetings, and more! It's easy as 1, 2, 3!
For every event you add, a series of reminders will be sent out to you and any invitees (customers, clients, etc.).
● System reminders are sent to you through the TextP2P website and app. 
● SMS reminders are sent to invitees using your custom text templates.
● Email reminders are sent to invitees using your custom email templates.
Whether you're meeting with new leads and clients or setting up appointments with existing customers, the calendar is perfect for you!
Why businesses are using text reminders for appointments?
Text reminders are revolutionizing how businesses connect with their customers. But, maybe you know that one of the biggest nuisances you can get in your business is missed appointments. Yes, every missed appointment translates into lost revenue. 
But your business doesn't have to go through this unfortunate experience. On the contrary, modern communication technology has brought unprecedented opportunities which businesses like yours are taking advantage of; Let's see what the mobile phone can help you achieve in this respect.
Shrewd businesses realize the potential created by mobile phones. Today, almost everyone has and depends a lot on their mobile phones. Remember, in the USA alone; it is estimated that within the first fifteen minutes of waking up, 79% of Americans check their phones. But, that's not all; these people check their phones about 150 times per day on average.
That tells you how much your business has not taken advantage of this wide access to these devices.
What Is a Text Appointment Reminder?
If you are new to this concept, know it's not rocket science. But, of course, you most likely use ordinary text messages to communicate with your loved ones and for business purposes. The idea is the same but differs in terms of purpose and scope. 
A business appointment reminder text is an SMS text that you send to your customers on behalf of your organization. The purpose of this text is strictly formal; it is meant to remind the customer or any other person of interest about a pending appointment. 
If you have ever missed a crucial appointment because you forgot all about it, you know how vital a reminder via a text to your mobile phone is.  
These reminders can be used in a wide variety of business situations like the following: 
The primary goal of text reminders for appointments is to remind the target individual about an upcoming appointment with your business or organization. 
Most text reminders are brief and to the point; they contain the day and time of the appointment or a relevant link to more information about the upcoming appointment.   
Text messaging alert system allows businesses to send messages quickly to a defined list of recipients. The use of such a system has been widely adopted by companies, who find this method easy, convenient, fast, and affordable. In addition, many text messaging systems have excellent security and alert features which their users can regularly update.
Some of the benefits you'll get by using text message reminders include:
6 Key Benefits of Text Appointments Reminders for Your Business
Your time is very valuable whether you run a service based business, an educational institution, a law firm, a clinic, or some other type of small business. So you need to schedule your time to be as productive as possible while avoiding your clients missing or needing to reschedule your appointments.
You can help avoid these costly problems by sending simple text message appointment reminders to your clients and they will thank you for it. To start you will need a high-quality SMS appointment reminder company like TextP2P to help you easily schedule your automated text reminders. Start your free 14-day trial today.