Whether you're looking to send out reminders or promote sales, text messaging is an easy, efficient, and effective way to 

communicate with your customers and company.
Why Business SMS Messaging is Key
Why should businesses use text messaging? Well, it's a big world out there. In order to effectively reach people with things to do and places to be, businesses need something that's fast and easy. Enter text messaging. Trillions of texts are read every year, and texting is the top reason why 88% of people use their mobile phones. With a 98% open rate, texts make sure that your message reaches your audience.
If you want to get a message out, text is the way to go.
Business Texting Solutions for Everyone
Whether you are a brick-and-mortar retailer or an on-the-go service provider, texting can help you elevate your business.

Our business texting solutions ensure that your business gets done.
Send out appointment reminders if you are a service-based business, or update customers on shipping info, sales, and deals if you are a product-based business.
Alert your customers about flash sales, giveaways, new products, back-in-stock items, and more. Let them know about holiday or fundraising events, too. 
Welcome customers that join your loyalty program or visit your business. Connect by sending out personalized Thank You and Happy Birthday messages.
Text one-on-one with customers to help them resolve problems. Manage multiple customers with a comprehensive inbox.
Present personalized offers to customers based on past experience with your business. Promote limited time sales, too. 
Have customers text a simple code to join your loyalty program or mailing list. Use text to thank them for joining and to send out special updates or offers.
Send out surveys through text. Ask customers about new, potential, or recently purchased products. Collect reviews on service, too.
Ask customers to return to their abandoned cart on your website, and update them on products that they are interested in. Even encourage reviews on purchased products.
Get the word out about your blog posts and newsletter send outs. Notify customers of new social media posts, and use text as another means of promoting your business.
What TextP2P's Business Texting Service Can Do
With TextP2P, text marketing is effortless and efficient! Check out the different features that our business texting service has to offer.
Whether you need to send out appointment reminders or promote sales, text is the way to go. TextP2P allows you to directly message customers via text, email, and ringless voicemail. Simply add their contact info, write your message, and hit send! If you're looking to reach a larger audience, try campaign messages instead. Easily create a list of contacts and then send messages to them. Level up your messages with emojis, images, videos, audio messages, and attachments, too! And, don't worry about length because TextP2P allows you to send messages 1600 characters long while most systems allow only 160. Even better, TextP2P allows you to have unlimited contacts, client notes, and lists for free! 
Returning to that original idea of appointment reminders: save time, too, by scheduling texts in advance, whether it be for five minutes or five days later. Speaking of saving time, quickly create text campaigns using custom templates or by duplicating existing campaigns. Once you start connecting with customers, TextP2P helps you stay organized with a comprehensive inbox–complete with two-way messaging, notifications, contact info, folders, and reminders.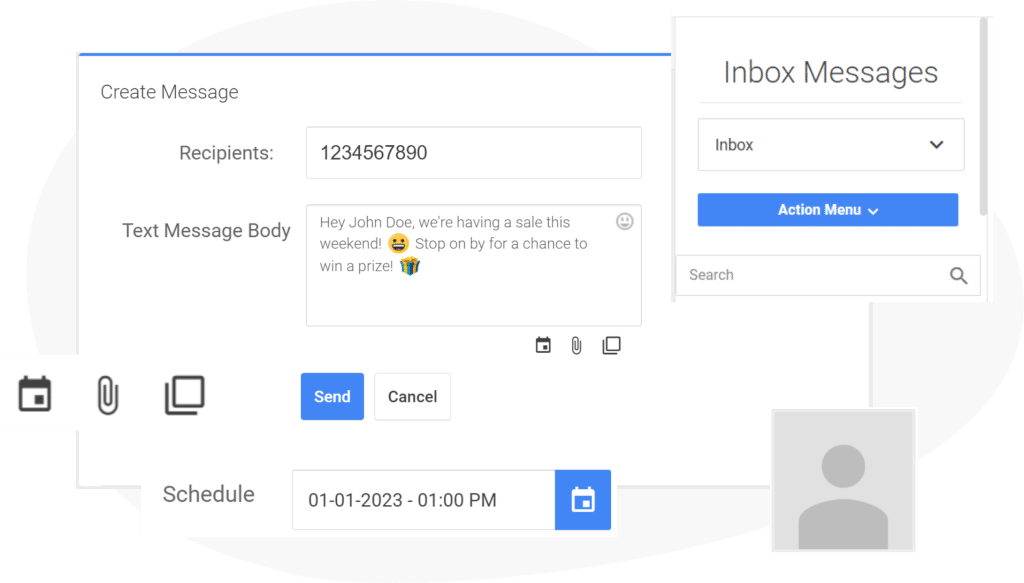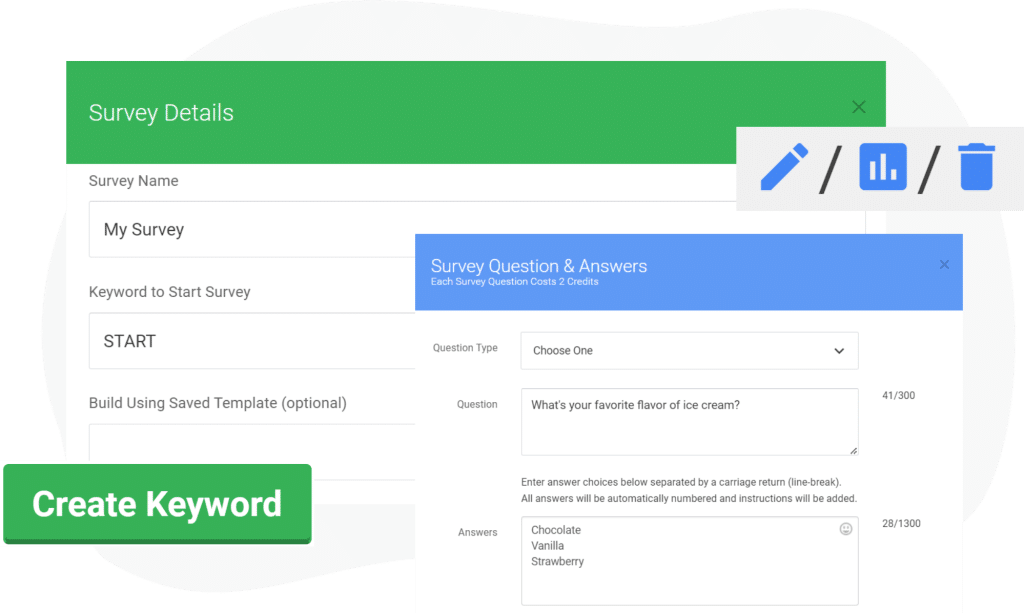 With just one word, customers can quickly and easily sign up for loyalty programs or register for events. TextP2P allows you to set up unlimited keywords for free! All customers have to do is text a keyword to your dedicated TextP2P phone number, and a contact will automatically be created for them. You'll have the ability to assign them to a contact list and send a confirmation or thank you message if you'd like. With a keyword set up, you can also create a shareable link or QR code for customers to interact with. It's simple and effective, allowing you to quickly collect customers info so you can contact them more later.
With keywords, you can also send out automated surveys. Text customers to reply with a keyword of your choice and an automated survey will start. Add as many questions as your like while mixing and matching between multiple choice and free response questions. Ask things like, "What color should our next product be?" or "What should we improve in our store? Add images in your survey, too! View the responses within TextP2P itself or even download a summarized or detailed spreadsheet for easy sharing. For just pennies a text, you'll give customers an interactive experience that can help you improve the future of your business.
Staying organized is often the key to success for businesses, especially when it comes to money management. Fortunately, TextP2P lets you see exactly how your money is working with text marketing. On your account dashboard, you can easily see the number of contacts and phone numbers you have. You can also view the status of your purchased credits, which are used to keep track of how many messages you can send. Easily view y
our daily credit limit, daily credit limit remaining, monthly credits, and rollover credits. Also, view your text credit history in the form of a bar graph showing added and used credits over time. Also in a graph,
check on the status of your marketing campaigns, with a graph showing both sent and received messages over time.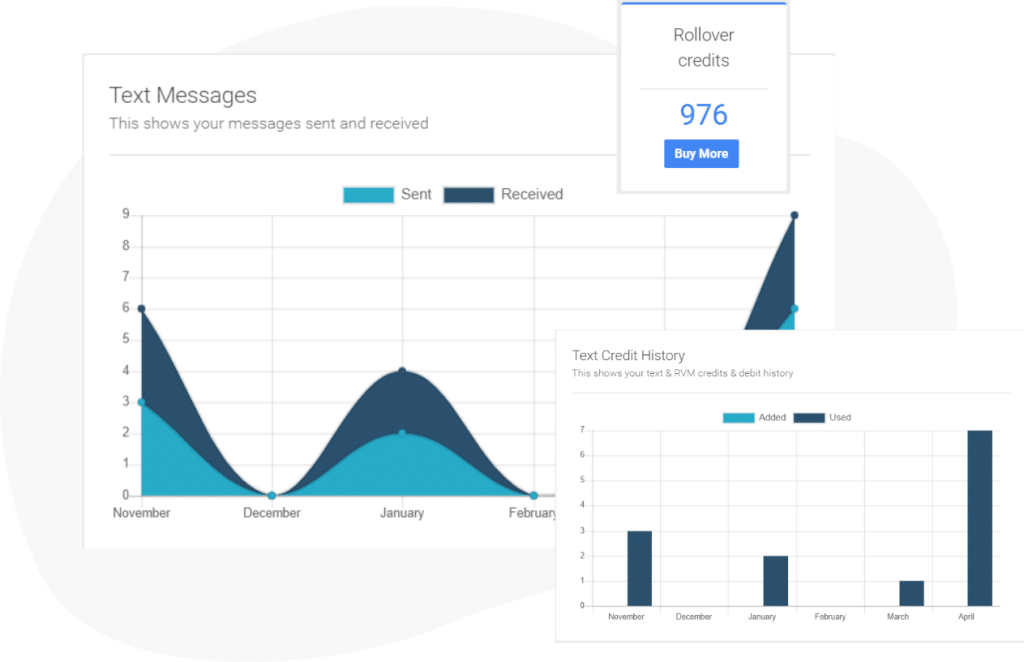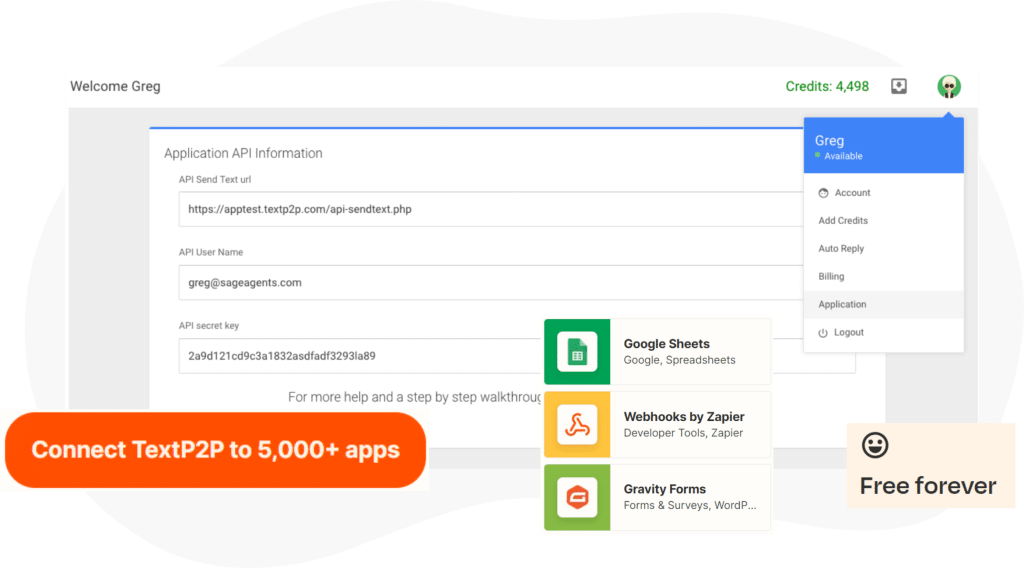 Automations and Integrations
TextP2P's workflow automations to set up automated drip campaigns. New leads will be messaged at intervals of your choosing using messages of your choice. Mix and match with texts, emails, and ringless voicemails to increase the reach that your business has. Whether you want to send out daily encouragement for your employees or send out reminders leading to an event for your customers, automations will get the job done. With the ability to export and import automations, you can even share your workflows with coworkers or fellow business owners!
And, if TextP2P doesn't have enough just yet, try using TextP2P's powerful API. With an HTTP POST API, 

anyone can call to send text messages from one application or CRM like Infusionsoft or Salesforce synchronously through TextP2P. Make it even better with Zapier integrations. Zapier allows you to connect TextP2P to over 5,000 other apps and web services, allowing data to automatically be transferred between them. These automated connections, called Zaps, can be set up in minutes with no code required. With integrations, you can create TextP2P contacts from Google Spreadsheet rows, add TextP2P subscribers to MailChimp, update HubSpot email subscriptions when TextP2P unsubscribe, and more. Best of all, Zapier's core features are free forever, with a 14-day free trial for premium features and apps!

 
Hear How Others Are Using TextP2P
Still not convinced? 

Listen to what business owners have to say about our business SMS service.
I love being able to text many people at one time! I can text all my clients to follow a specific nutrition or workout program at once to check in. I can text all my new coaches at one time to send a reminder about our weekly call. The automated workflows are helping keep track of clients who start on a different day than others. The ringless voicemail is such a great way to personalize messages and make my clients feel connected, and if I ever got stuck with how it works, the Support Center resources are very helpful, and customer service is very responsive! I've been looking for a system like this for awhile! Just what I needed!
Taylor P. • Wellness Coach
Without calling someone, I was able to set up this platform and use it successfully in 15 minutes! Other platforms have had me at a standstill for months trying to discern the coding language and setup. TextP2P is the tool my organization needed. I'm so excited for all the uses available to me! Within 10 minutes of "setting" up my account, I was able to make 3 of my contact lists, which is such a huge win for my organization. I love that I can have different groups or campaigns and get the message out to my groups that need it in a timely and personal manner.
Laura B. • Non-Profit Chief Administrative Officer
For a person that's extremely critical of software, its design, functionality, and overall cost, I find TextP2P to be one of the most well written, full of useful functionality, reasonably priced, easy to use softwares I have ever come across in my 35+ years of owning my own businesses. It is absolutely brilliant, and I would recommend it highly to anyone tired of using social media to promote their business and getting no results. And, an A+ to their support team. Their video tutorials are thorough and cover just about every topic needed. But, if the videos don't answer your questions, a live person is just an email away. Well done!
Dan Hine • Founder and Chief Executive Officer of EatLoco
TextP2P has made such a difference! I was feeling scattered and lost until this came into my life. Now, I feel more in control. TextP2P has made my follow-ups easy by scheduling bulk and individual reminders, making connections, and sending notifications. I've been able to organize my sales funnel, which has helped with making sure that every potential client, business partner, or booth renter is communicated with on a regular basis. TextP2P has helped me grow my business, build trust, and solidify client relationships. I love it!
Kerri Spencer • Professional Network Marketer and Salon Owner
TextP2P has revolutionized the way we communicate with our most valued customers and clients. There are so many cool features that make communication easy and effective. We've especially enjoyed the ringless voicemail features. We used to depend mostly on email communication, but now we're able to send text messages or voicemails in an instant, and with a nearly 100% open rate. TextP2P has been a phenomenal tool for our corporation. 
Craig Coylar • General Manager at Modere North America
TextP2P's Award-Winning Text Messaging
TextP2P is the best business text messaging app for companies everywhere. In fact, we're award-winning! TextP2P has been recognized by software websites such as GetApp, Capterra, Software Advice, SourceForge, Slashdot in various categories such as Conversational Marketing, Mobile Marketing, SMS Marketing, Appointment Reminders, Cloud Management, and Cloud Communication. TextP2P's founder has even been recognized by his local Chamber of Commerce. Click on the badges below to learn more!

Ready to Try Business Text Messaging? Get Started Today!