Ringless Voicemail for Business
Have you ever wanted to get a message to multiple customers quickly and efficiently without speaking to them in person or spending the time to call each individual? You can now with Ringless Voicemail (RVM). This cutting-edge enhanced service is the latest sales and marketing method in business today. Unlike the interruptive cold-calling approach, you can advertise straight to your customer's voicemail without ever having to pick up the phone, AND they can listen (to your voice) and respond at their convenience. Also, with an average open rate of 98%, Ringless Voicemail guarantees that nearly all customers will listen to your message.
How It Works
Ringless Voicemail, also called a voicemail drop, works by delivering (or "dropping") a pre-recorded audio message directly to mobile voicemails without the phone ever ringing. Instead, bulk or single voicemails are loaded directly into the customer's voicemail server. This non-intrusive form of messaging eliminates the time it takes going through the normal process of dialing, ringing, and then entering a voicemail system.
This simple and effective marketing method is perfect for restaurant businesses, retail shops, schools, small business owners, non-profits, real estate firms, fitness centers, and auto dealers- to name a few. All messages are delivered to new or existing leads without the need for salespeople or customer service reps. Here are a few other benefits to using RVM:
Non-interruptive communication
Build loyalty and longer-lasting relationships
Increase incentive referrals & reviews
Re-engage leads
Reach thousands in minutes
In addition, RMV can also be used internally within the organization to relay important messages throughout different departments. Save time and effort by delivering your message directly into their voicemail with the click of a mouse.
With TextP2P, you can be sending your customers RVM campaigns in three easy steps:
Create your campaign and chose Ringless Voicemail recipient(s).
Record your message using a provided audio recording system.
Choose a recorded message and send it to your chosen contact list.
You can also combine TextP2P's text marketing and Ringless Voicemail services to create an automated drip campaign that saves you time and helps organize your customer communication and new lead follow-ups.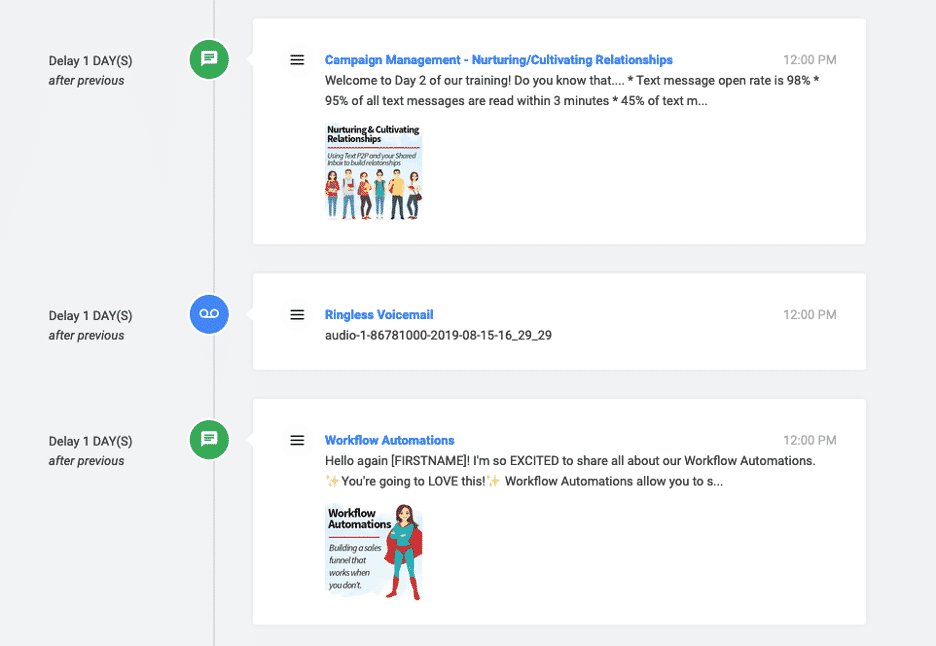 Watch this video to see how Ringless Voicemail works.
How to Get Started Immediately with Ringless Voicemail
The next step is to decide which platform to use to run your Ringless Voicemail campaign. We highly recommend our system, TextP2P. 
TextP2P is an easy to use web application designed to be used on a computer or mobile device. TextP2P provides a SMS & MMS text marketing and Ringless Voicemail system designed to help small-midsize businesses cultivate better relationships with customers and streamline follow-ups. Send your customers text messages from a virtual 10-digit local number with a maximum of 1600 characters! It offers features like: Sending bulk personalized texts, surveys, drip campaigns, Ringless Voicemails, keyword signups, scheduling, and more.
At TextP2P we offer a FREE 14-day trial where you will receive 100 credits to use towards text marketing or Ringless Voicemail campaigns. Sign up today for a FREE 14-day trial!