If you are involved in an upcoming election, consider using SMS/MMS texts in your election marketing campaign. Text messages have an open rate of 98%, compared to 20% for emails. Using a text message, you are practically guaranteed it will be opened. It is highly likely that with captivating and engaging content of fewer than 160 characters, it will be read.
In today's society, your political campaign strategy cannot afford to overlook text messaging. The average young voter, a group every campaign should target, receives an average of 87.7 text messages each day. Make sure at least one of them is from your political campaign.
If that isn't enough to convince, here are five more reasons to use text messaging in your political campaign.
1. Increase funds raised for the campaign
Send a text message asking voters to donate and get immediate results using text messages. Including a button to donate will show results within minutes. A follow-up text can thank them and inform them where their contribution is making a difference.
2. Stay connected with volunteers and supporters
Keep your supporters and campaign volunteers up to date. Send text messages to respond to questions or suggestions. Sending responses to every message can become increasingly difficult as your campaign gains momentum. Use a custom autoresponder! Voters and volunteers need to hear from your campaign to increase their enthusiasm.
3. Get out the vote (GOTV) initiatives
We need more people participating in our elections. Elections give people their largest voice in decisions that impact significant issues (i.e., healthcare, retirement, economy, foreign affairs, etc.). Every vote counts! Outcomes are determined by turnout. Use text messaging to inform people of upcoming deadlines and polling locations. Ensure everyone knows when it's time to vote! Using text messages or updates via Ringless Voicemail can reach more people in a shorter amount of time.
4. Send surveys and polls
Learn what voters want with a text message survey. It's the fastest and easiest way to gather valuable feedback from your districts, to understand the issues voters really care about and improve your chances of winning. TextP2P uses MMS text messages, so each question, and answer choices, can contain a picture and 1600 characters.
5. Organize your volunteers

Need to mobilize your volunteers? No problem! They'll be on the move with just the click of a button. Use TextP2P to deploy volunteers into the community. You can communicate assignments, upcoming events, canvassing efforts, and more.
TextP2P Political Case Studies
Here are three political GOTV text campaigns delivered to thousands of voters with an average open rate of 98%.
Features of TextP2P include:
MMS messages with pictures, videos, and up to 1600 characters
Shared inbox where your team can respond to any text message
Call forwarding to your campaign number
Local 10-digit virtual number for the state or district you want to target
Detailed reporting
Stop campaigns
Automated responses based on keywords
Automated drip text campaigns
Political campaigns impact all of us! TextP2P provides technology that offers candidates an easy way to reach and keep voters. We support your efforts, and the best part is that we do it for you! Provide us with the voter list, photo, and text message body. Let us know when you want the message sent, and we will handle the rest.
How to Get Started Immediately with Text Marketing
Get started with text messaging today and be ready for election day! Sign up for a FREE 14-day trial, which includes 100 credits.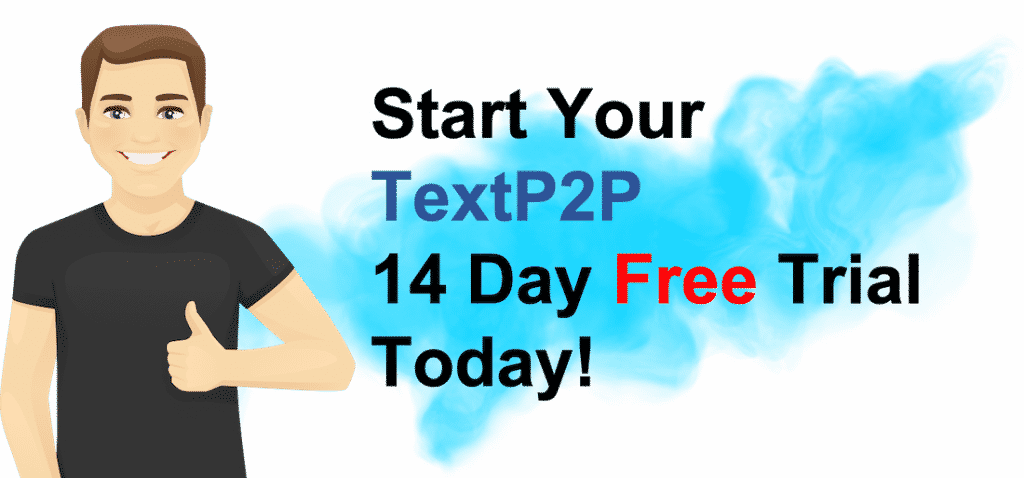 How Does the Free Trial Work?
✅ Sign-up for a FREE TextP2P account. Take a tour of the system and watch a demo.
✅ Sign up for a FREE trial by entering your credit card to start and immediately receive a local area code phone number matching your cell phone and receive 100 FREE text credits. You credit card will not be charged until your trial is over unless you go over your 100 free texts. After the trial ends your membership begins for just $20/month with our Starter Package Plan.
✅ You're in control! Upgrade, Downgrade, Buy Additional Credits, or Cancel at Anytime.
TextP2P offers bulk personalized texts, surveys, drip campaigns, Ringless Voicemails, keyword signups, scheduling, and more.
Our mission is to empower people with the right tools to share their message so they can make a positive impact in the world.