What is A2P 10DLC?
A2P 10DLC refers to a system in the United States that allows businesses to send A2P, or application-to-person messaging via a standard 10-digit long code, or 10DLC. Starting on April 1st, 2021, A2P 10DLC will launch on AT&T. Along with the launch, businesses that intend to send messages with AT&T will be required to complete a new registration in order to use local area code numbers in the United States. This registration must be completed by October 1, 2021 to avoid any additional filtering.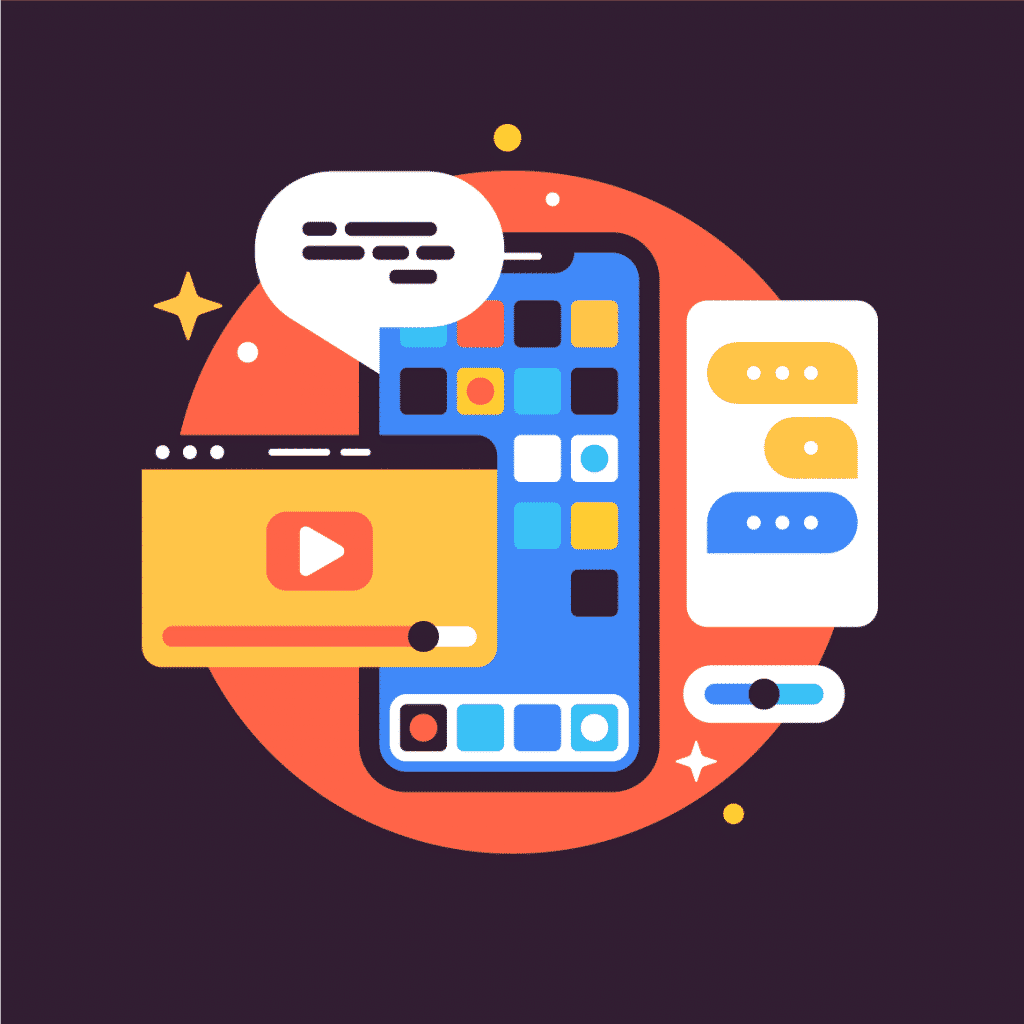 What is A2P?
A2P is an industry that stands for "application-to-person". This term is used to reference sending computer programmed text messages to individual people. It's the simple process of sending a text message from an application directly to a mobile phone. A2P messages are also commonly referred to as "professional" or "enterprise" text messages. This form of text messaging is the most common and cost effective for businesses. A2P removes the manual labor of texting and enables businesses to send bulk text messages.
Even though TextP2P is meant to seem like you have person to person conversations, all messages sent through TextP2P are considered A2P by US carriers. Businesses can use A2P text messaging for several reasons: sending notifications, sending mass text messages, tracking click-through rates, and delivering time-sensitive alerts. Unlike A2P, P2P messaging refers to person to person. P2P is a standard conversation between two people. However, A2P also allows for 2-way conversations. The difference is that your businesses messages will be sent through an application, and on behalf of your business, not from an individual.
In order to send an A2P message, you must first access an A2P messaging platform, such as TextP2P. You can then send out either mass or inividual SMS and MMS messages. One the A2P message gets sent through a network, it will arrive to your subscribers like a regular text message. There are many benefits to using A2P messaging, such as high response rates, fast respond times, and high volume messaging.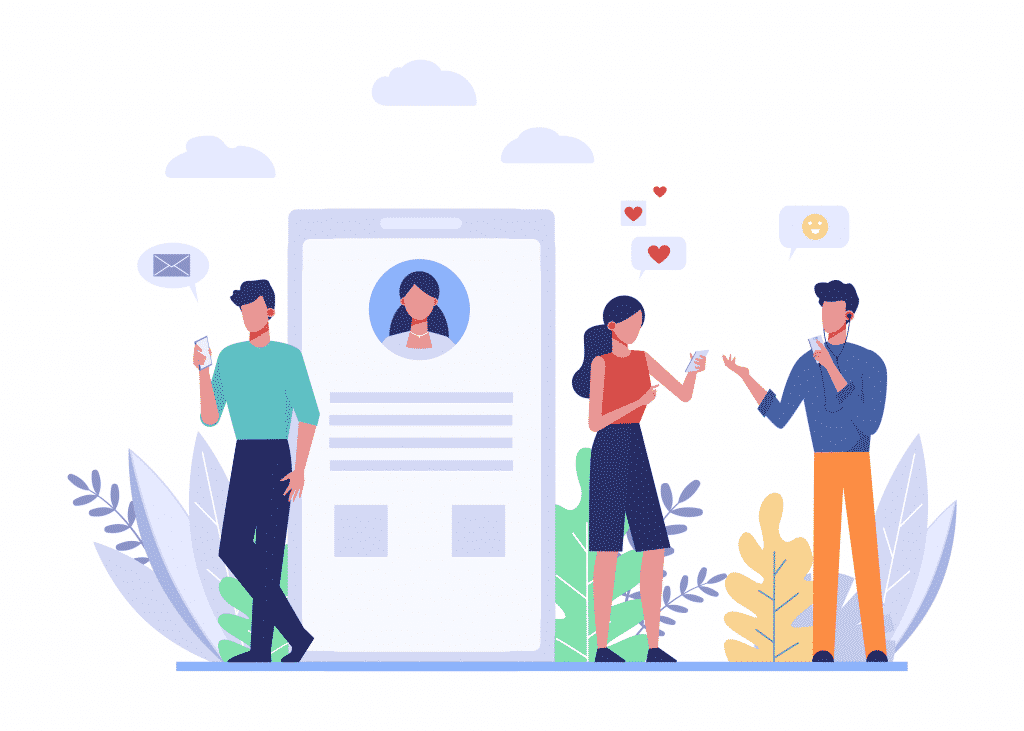 What is 10DLC?
10DLC stands for "10-digit long code" and is also referred to as a "commercial long code". A 10DLC looks like the standard 10-digit phone numbers used by individuals. However, these codes can actually support the high-volume message output used by businesses. The use of these phone numbers is now becoming the new industry standard for A2P messaging.
Until recently, 10-digit phone numbers were not designed to send mass text messages. Furthermore, dedicated phone numbers that were built for bulk-texting are called short-codes (5-6 digit numbers) were too expensive for businesses to use. Before 10DLC became an option, most companies would use short codes or toll-free long codes for sending a high volume of text messages. One issue with the previous options is that they can be very expensive, and also appear more corporate than a regular phone number. When your customers see a normal phone number on their screen, they'll feel more comfortable engaging with your campaign.
By using a 10DLC number, you will be able to send mass text messages without spending a lot of money and lower overhead costs of your business. With a 10DLC codes you'll also be able to send messages at a rate of 5 to 10 messages per second. The daily limit of text messages that you can send with 10DLC is somewhere between the amount a short code and toll-free long codes can send, which is a large range of a few thousand to a few million. By using a 10DLC code, your business or organization will have it's own dedicated phone number to send SMS messages with.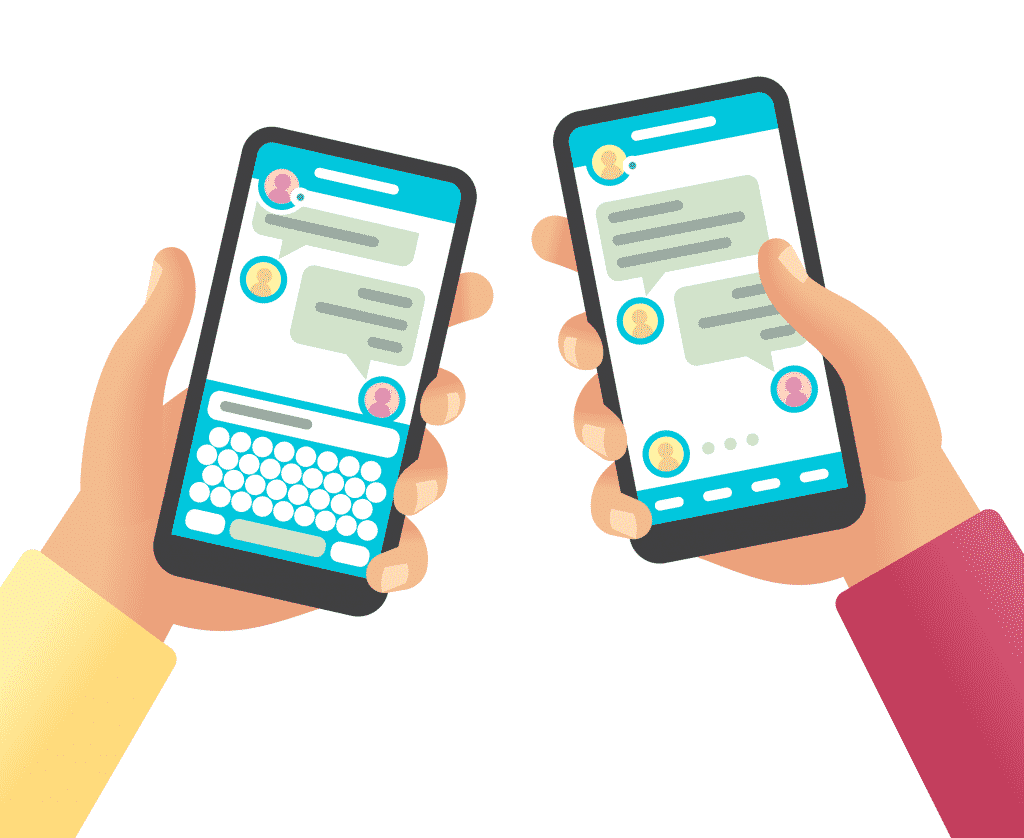 Why should you use 10DLC?
10 DLC numbers give businesses the best of both worlds: mass text messaging support, with lower overhead costs. This is what you can expect from 10DLC.
Higher SMS message volumes
10DLC numbers are capable of supporting SMS message volumes that are somewhere between the limits of short-codes and toll-free long codes. Currently, 10DLC messaging can send messages at a rate of 1 message per second, and that number may go up in the future.
Lower costs
10DLC numbers have lower monthly costs than dedicated short codes. So, businesses that can't afford a short code number or don't send enough messages to justify paying for a short code have a cost-efficient alternative. Additionally, businesses will be able to convert their existing landlines to 10DLC numbers. This means businesses can send more messages from their existing phone number to get 10DLC capabilities.
Better deliverability
Because 10DLC numbers are sanctioned by the carriers, messages are less likely to be filtered and more likely to reach the recipient.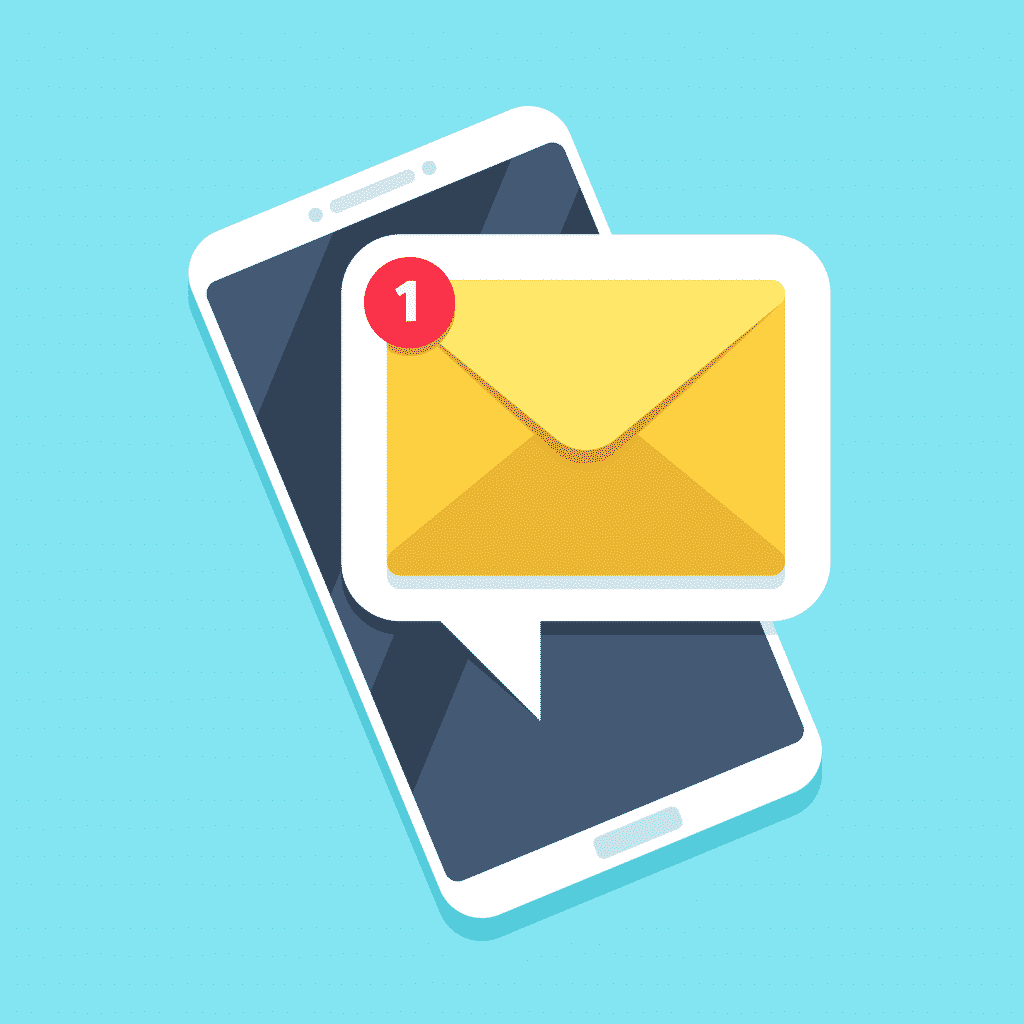 How does A2P 10DLC work?
There are two important requirements under the new A2P 10DLC system:
Businesses must identify who they are to carrier networks (brand registration).
Businesses must register what type of messages they are sending, i.e. notifications (campaign registration).
Registration is done entirely through TextP2P's Trust Center and we will communicate with the The Campaign Registry (TCR) to meet the requirements of carriers, while making it easy for businesses to onboard. See example screenshot below: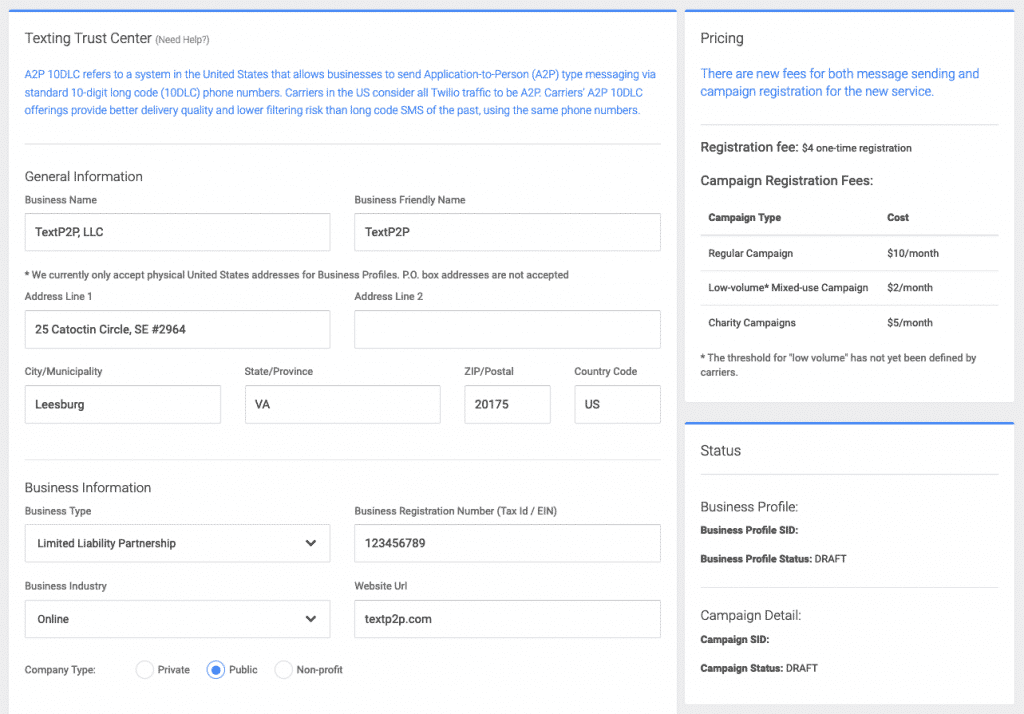 Customers will also be required to provide a couple use cases to define their "campaign" to the carriers. Customer's will need to provide 2 sample messages of the types of text messages they will be sending. These are just examples only for the carriers: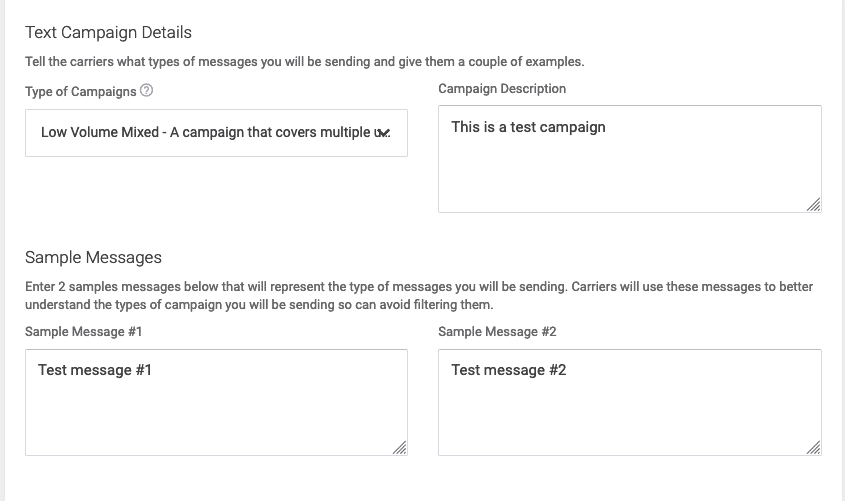 When you complete your A2P Profile (Brand Registration), The Campaign Registry will give your brand a Trust Score of either Low, Medium, or High Trust. This rating influences the maximum message throughput that will be allocated to each of your campaigns. Se table below for AT&T and T-Mobile.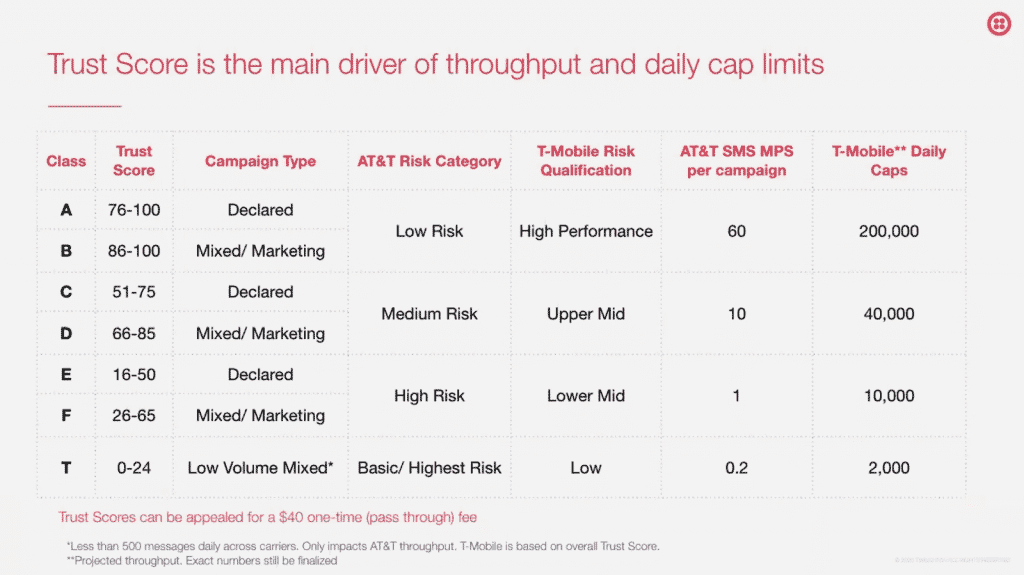 If you would like to learn more about A2P 10DLC and how to register with TextP2P, check out our help page.