The second week of June every year marks National Email Week! Since 1965, email has allowed computer users to conveniently communicate with one another. And, since 2018, TextP2P has served as the ultimate mobile marketing platform for businesses to communicate with their customers. As an all-in-one platform, TextP2P provides you not only with text marketing but also email and ringless voicemail marketing. Read on to learn all about National Email Week and email marketing with TextP2P!
Table of Contents
A Brief History
In 1965, the earliest version of what would become email was invented at the Massachusetts Institute of Technology. The program MAILBOX allowed computer users to leave messages for others using the same computer. Four years later–on October 29, 1969–the first computer-to-computer message was sent via the US Department of Defense's ARPANET. In 1971, Ray Tomlinson created ARPANET's networked email system, which made use of the @ symbol. Since then, many email hosting sites have popped up. In order of release, these include Microsoft Mail, AOL Mail, Yahoo Mail, Hotmail, and Gmail.
Nowadays, there are more than 4 billion email users worldwide, contributing to more than 300 billion emails sent and received everyday. That's more than 3.5 million every second! Seeing as email is only getting more and more popular, TextP2P is here to help you take advantage of the 2nd most popular form of communication for people across the US!
Introduction to Email Marketing
First and foremost, what is email marketing? Email marketing is one of many direct marketing channels through which businesses can promote themselves. "Direct" means that there are just two parties involved: the business and the consumer. Through email marketing, businesses send messages personally to customers, rather than advertising to a large group with, say, a billboard.
Email marketing can also be broken up into two different categories: individual email and email campaigns. (Both of these are supported by TextP2P.) With individual emails, businesses can send messages to specific customers at specific times. This could be used, for example, to let a long time customer know that they are getting a congratulatory discount. With email campaigns, businesses can send messages to large groups of customers all at the same time. This type of email marketing is more suited towards general messages, for example, a message letting all customers know about an upcoming sale.
Email Marketing vs. Text Marketing
Text messaging is another example of a direct marketing channel. Just like email, texts can also be sent out individually and through campaigns. There are many similarities and differences between email and text, so which is better?
In the past, we've actually done a full analysis of this on our blog, which you can check out here! But, for the time being, here's a quick side-by-side comparison (sources are linked):
Email
Text
26.8% open rate
98% open rate
1.89% click through rate
10% click through rate
90% of consumers would sign up (with a small incentive like a discount or sample)
91% of consumers would sign up
Can include custom text (bold, underline, different colors, etc.), images, tables, lists, and links
Can include text, images, and attachments
Can't include attachments
Can't include tables, links, lists, and custom text (bold, underline, different colors, etc.)
Best for non-time-sensitive or non-critical messages
Best for time-sensitive or immediate messages
Example Ways to Use
● Newsletters
● Long-form educational content
● Visual product announcements
● Technical information
● Press releases
● Publicity updates
Example Ways to Use
● Limited-time offers and discounts
● Appointment reminders
● Updates and notifications
● Purchase confirmations
● Information that requires two-way communication (customer support)
As you can see, both text and email have their pros and cons. At the end of the day, it's up to you to decide what works best. The good news, though, is that you don't have to choose right away. With TextP2P, you have access to text marketing, email marketing, and more all in one platform! Let's take a look at how exactly TextP2P can help.
Email Marketing with TextP2P
With TextP2P, email marketing is easy as 1, 2, 3!
Set Up Your Email: Navigate to the Email Setup page using the left sidebar (Main to Email to Email Setup). Then, simply fill out all the fields and click the blue button. While not required, we recommend you also authorize your domain to increase deliverability rates. For more detailed info, check out our Zendesk help articles!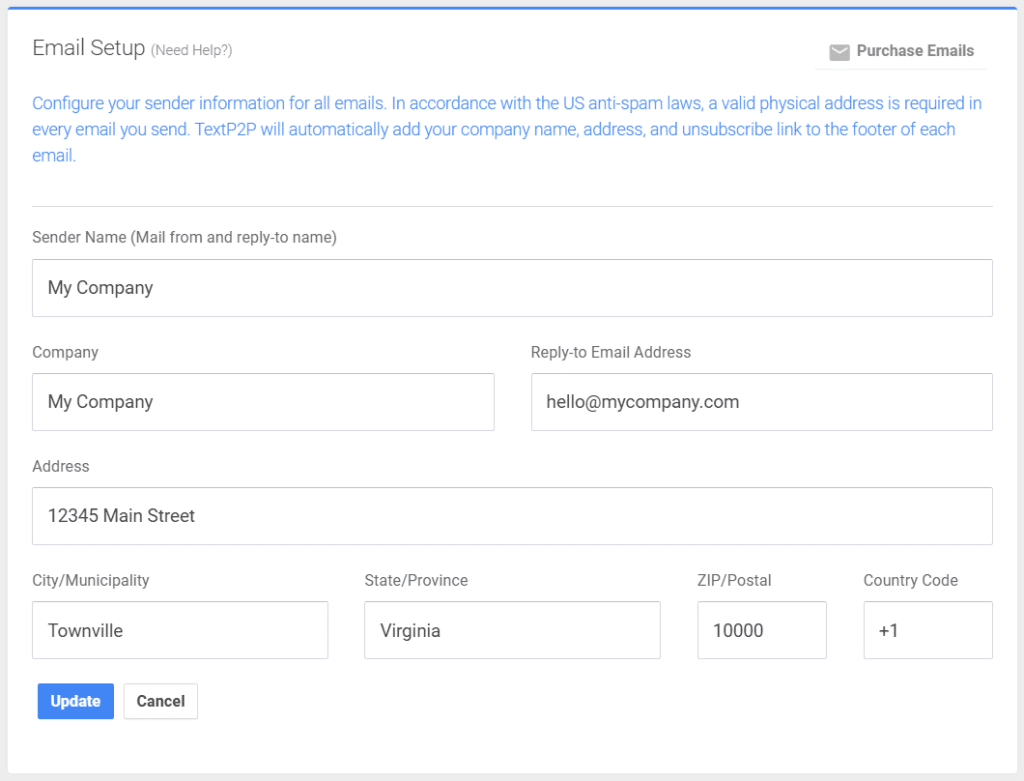 Create Your Email: Depending on whether you want to send a message to an individual or to a whole group, navigate to either the Direct Email or Email Campaigns page (Main to Email to Direct Email or Email Campaigns). Fill out the fields that appear, including of course, the Email Body. Check out the section after this for some quick tips to help level up your messages!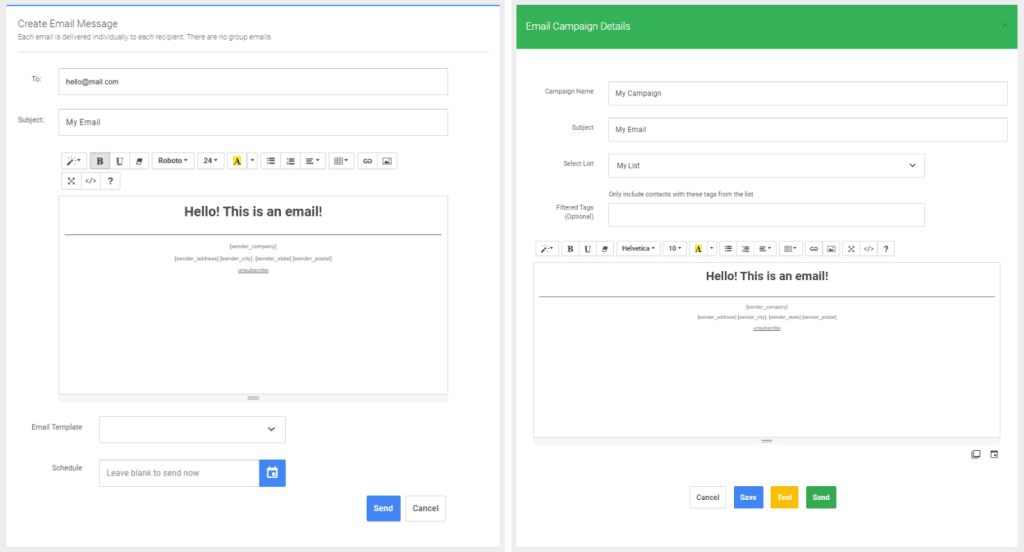 Send: Once you've filled out all the fields for your direct email or email campaign, click Send to deliver your message! Alternatively, check out this article to learn how to schedule your message for later. Afterwards, don't forget to check on how your campaigns are performing by clicking on their names in the Email Campaigns page (Main to Email to Email Campaigns).

Quick Tips for Email Marketing
TextP2P is here to help! Here are some tips to help you make the most of your email marketing.
Customize your messages: One way to make your emails more engaging is to make use of interesting text and visuals. With TextP2P, you can change text's font, size, color, and justification. You can also bold or underline text and create bulleted or numbered lists. Links, tables, and pictures also help to boost your messages. And best of all, TextP2P supports HTML, so if the built-in features aren't enough just yet, you can add whatever your heart desires in Code View.
Integrate with workflows: A good marketing plan is key for ensuring that your message gets out to all your customers. Through workflow automations, you can schedule texts, emails, and ringless voicemails all in one! Check out this article, or this article, to learn more about automated drip campaigns.
Try out templates: With templates, you can save and reuse emails! First, navigate to the Email Templates page (Main to Email to Email Templates), click Create Template, fill out the fields how you normally would, and click Create. Then, when creating a direct email or email campaign, all you have to do is select the template in the Email Template field and TextP2P will automatically insert what you created!
Don't worry about pricing: We like to keep it simple, so we make sure that you only pay for the emails you send. And email credits never expire, so you can rest assured that your money won't go to waste. Speaking of money, did you know that you can send 2500 emails for less than the price of three coffees? Well you can, with TextP2P!
Send on the go: Last year in June, TextP2P's free mobile app launched for both iOS and Android. With the app, you can manage your text marketing from wherever you are. However, email and ringless voicemail are not yet supported. But, business owners find a way! Our website, with all of it's features, is mobile responsive. So, all you have to do is visit TextP2P.com, sign in to your account just like you would do on your computer, and market away!
Integrate with Zapier: Zapier allows you to connect TextP2P to over 5,000 other apps and web services, allowing data to automatically be transferred between them. These automated connections, called Zaps, can be set up in minutes with no code required. With integrations, you can create TextP2P contacts from Google Spreadsheet rows, add TextP2P subscribers to MailChimp, update HubSpot email subscriptions when TextP2P unsubscribe, and more. Best of all, Zapier's core features are free forever, with a 14-day free trial for premium features and apps!
Conclusion
As National Email Week continues, we remember how far email has come! For over half a century, email has helped friends, families, businesses, and more to connect with one another. Email and email marketing are here to stay!